A History of Captioning: Where It Started and Where It's Going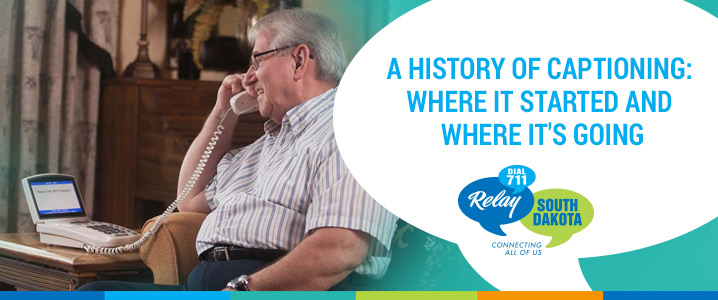 Ever since Samuel Morse invented the telegraph in 1837, we've been using machines for long-distance communication.
But it wasn't until the 1950s that captioning for deaf and hard-of-hearing people became mainstream in the film industry – and we had to wait for the Telecommunications Act of 1982 for mandated telephone access for all.
When you look at it that way, captioned services have come a long way in 35 years.
Let's see how far we've come. Take a look back on the history of captioning.
1920s
Bell Telephone System creates the "deaf set" for hard-of-hearing people and demonstrates transmission of pictures over telephone lines.
1927
Sound was introduced to motion pictures, leaving millions of deaf and hard-of-hearing people without access to the movies.
1947
The first captioning of a film was created by Emerson Romero, deaf cousin to the famous movie actor Cesar Romero.
1951
Captioning in films becomes more mainstream, as "America the Beautiful" is the first film to be open-captioned in America. It was a 25-minute product created by Warner Brothers to sell war bonds.
1958-1962
Laws begin to be passed required captioning in Hollywood films as well as educational films – opening the door to equal access to educational media for deaf and hard-of-hearing students.
1971
The first National Conference on Television for the Hearing Impaired is held in Memphis, Tennessee.
The Caption Center is established at WGBH, a PBS affiliate in Boston.
1973
The Caption Center begins airing ABC World News Tonight with open-captioning four hours after broadcast, replacing commercial slots with deaf community news.
1979
The National Captioning Institute (NCI) is formed to caption TV programs and produce decoders.
1980
The National Captioning Institute begins closed captioning on ABC's Sunday Night Movie, NBC's The Wonderful World of Disney and PBS's Masterpiece Theater.
IBM captions the first television commercial.
"Force 10 From Navarone" is the first home video to be captioned.
1981
First closed captioning of a children's television, Sesame Street, is broadcast.
1982
Congress passes the Telecommunications Act of 1982, expanding phone access for people with disabilities based on the universal service obligation.
1984
The Olympic Games are captioned live.
1989
First closed-captioned music videos are produced.
Major network prime-time programs are now 100% captioned.
1993
TV networks log more than 2750 captioned hours a week.
Many new release home videos and cable channels begin to introduce captioning.
1994
"Information Superhighway," a speed by Vice President Al Gore, becomes the first captioned event on the Internet.
1998
The first close-captioned video game is released, Acivision's "Zork Grand Inquisitor."
1999
Microsoft Encarta Encyclopedia is released with captions on CD-ROM.
2003
CapTel Technology is approved by the FCC, enabling individual states to offer CapTel as part of their relay services.
2004
In January, Hawaii becomes the first state to offer full service CapTel to its relay customers.
Many more states convert from consumer trials to full-service CapTel over the course of the year, By December the majority of states nationwide offer full service CapTel.
CapTel is also available nationwide through the Federal Relay Service.
2005
Interest in CapTel service continues to soar.
2006
America becomes the first country in the world to require all new TV programs be close-captioned.
2009
Google introduces machine-generated, automatic captions on YouTube – a combination of Google's automatic speech recognition technology and the previous YouTube caption system.
2010
The FCC mandates that all Spanish-language programming first shown after January 1, 1998 must be captioned by 2010 (with some exceptions).
On October 8, President Barack Obama signs the 21st Century Communications and Video Accessibility Act into law – requiring smart phones, TV programs and other modern communication technologies to be accessible to people with vision or hearing loss.
2012
The first CapTel phone designed for use with Wi-Fi is released.
2013
CapTel introduces the first phone with extra-large display screen and font options for people who have difficulty viewing standard-sized captions.
2014
CapTel introduces the first phone with touch-screen technology – including a full-color display and dial-by-picture capability.
2015
CapTel introduces a speaker phone update for hands-free convenience while seeing captions of their calls.
Best Practices of Closed Captioning went into effect in March, which includes rules for accuracy, synchronicity, completeness and placement of captions.
2016
CapTel introduces Bluetooth® capability
2017
The FCC mandates that "near live" programming (less than 24 hours after recording) must be close captioned within 8 hours of initial airing. In addition, any live programming close captioned for television must be close captioned within 12 hours of the broadcast if delivered on the internet.
Who knows where caption technology is headed next? One thing's for certain, it's not about to slow down anytime soon.
CapTel continues to improve upon their voice-recognition (VR) technologies, to include larger vocabularies and data libraries in the future. As VR improves it will lead to even more capabilities for CapTel users.
Google continues to innovate new ways to promote universal accessibility – especially in the world of online video.
Multiple software companies are developing new platforms and smartphone apps to help make captioning even more mainstream.
In Manhattan, teen inventors have even created live closed caption glasses.
Sources: Impact Media; National Captioning Institute; Southwest Museum of Engineering, Communications & Computation; Ultratec.
Found in: Community | Technology