3 Unique Ways to Make Use of Relay Conference Captioning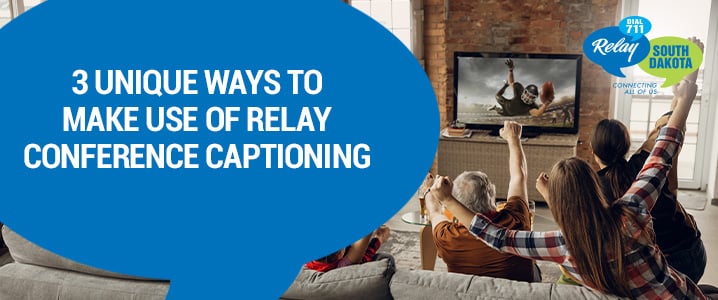 As part of our mission, Relay South Dakota aims to better the lives of those who could benefit from captioned conversations. One such service we're particularly proud to offer is Relay Conference Captioning (RCC). But beyond the obvious use in a workplace setting, this unique service far exceeds a single potential application.
Before we get too far, let's unpack what RCC is. This form of conference captioning is a no-charge service offered by Relay South Dakota. It was designed to benefit deaf and hard-of-hearing people in workplace settings in order to make remote meetings, phone calls, videoconferencing, and multi-party teleconferencing smoother for all people involved. Making use of the same high-quality captioning you might see on the news, live sports, and other day-to-day broadcasts, real-time text is streamed to an internet-connected device for the end-user to stay on top of the conversation in a work setting.
But there's more to RCC than meets the eye… here are three ways you can use it beyond the confines of the office.
1. Book Club
Taking your latest entry in the book club online? A virtual meetup to chat about the latest novel your go-to literary group devoured is a perfect opportunity to make use of RCC. If a member has experienced hearing loss or is deaf or hard-of-hearing, it's a great solution for keeping them a part of the group discussion and for the whole membership to be clued into their insights on the book at hand!
2. Event Planning
Whether you're planning an event with out-of-towners or simply those with busy schedules, remote meetings are likely on your agenda. But when it comes to ensuring all participants have a say in the process, RCC can be a valuable tool to open up the conversation across the web. From fundraising committees to nonprofit board meetings, captioning can provide those serving with a chance to see the course of conversation and weigh in on the topics at hand more effectively.
3. Watching the Game
As more and more people take advantage of the convenience of streaming services, group-watching has become increasingly popular. If you're engaging in a group-watch of a live stream like a sporting event, RCC can provide a way for you to interact with all viewers while cheering on your favorite team!
Found in: Lifestyle