5 Ways for Hard-of-Hearing People to Navigate Working in the Service Industry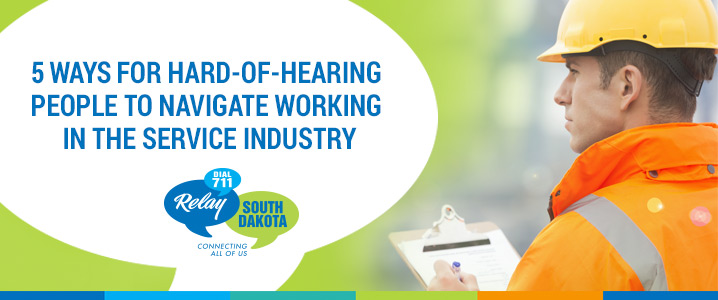 If you're hard-of-hearing, it's no secret that communicating can be difficult – especially on the job. As with every other part of your life, it's important not to let these challenges stand in the way of accomplishing your goals. Everyone deserves a rewarding career that they love. That includes you!
Here are 5 ways for hard-of-hearing people to navigate working in the service industry.
1. Remember you're not alone

No matter how big or small your employer is, odds are they have had (or will have) someone who is hard-of-hearing on the payroll. According to the Hearing Loss Association of America, approximately 48 million Americans report some degree of hearing loss. Of them, 60 percent are either in the workplace or an educational setting. Unsure about your rights on the job? This article can help.
2. Explain your hearing loss to colleagues

Healthy business relationships depend upon communication! Be clear with the people you work with - especially if they seem uncertain how to communicate with you, or they are new to working with you. Describe the nature of your hearing loss and tell them how best to talk with you. For example, let them know if you have trouble hearing voices if there is lots of background noise, or if you need them to speak more slowly. Explain how any technology tools you use work – such as a CapTel phone or TTY service.
3. Be your own advocate

Nobody knows what you need to do your job better than you do. Being your own advocate doesn't mean you're asking for preferential treatment – it means you're asking for what will work best for everyone. When you have the discussion, make sure to stress the benefits for the company. If it's easier for you do your job – and it's easier for colleagues to communicate with you – that leads to more efficiency for everyone. Talk about teamwork!
4. Prepare for phone calls

Being prepared is a big key to success no matter who you are, but it's doubly important for hard-of-hearing people. Here's how you can make the phone your friend at work:
Find a quiet environment to make or take a call.
Make sure the person you're speaking with knows about your hearing loss.
Use TTY service or a captioned phone, as needed.
Confirm key points at the end of the call.
If necessary, suggest alternatives that might work better for your situation such as video conferencing, email or instant messaging.
5. Make a plan for meetings

Whether you're in the office or visiting a client, it's important to make a plan for meetings. If possible, make sure everyone in attendance knows about your hearing loss. Arrive early and get the best seat for your individual situation. Inquire about printed materials in advance (agendas, speakers' notes, etc.) and/or request that videos be captioned. Learn more about hearing loss and meetings in this blog post.