ASR or RCC — What's the Difference?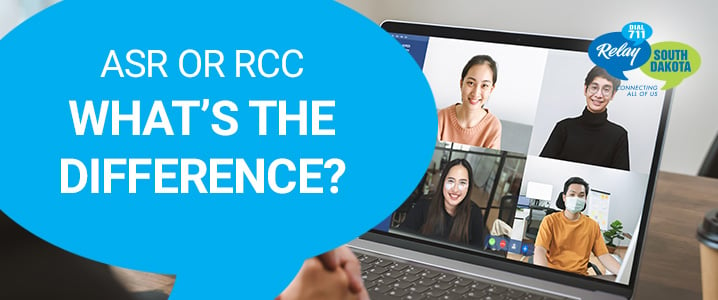 Assistive technology can be a game-changer in the day-to-day lives of those who are deaf or hard of hearing—and thankfully, there are plenty of options at your fingertips when it comes to communication tools. Two such types of services are Automatic Speech Recognition (ASR) and Relay Conference Captioning (RCC).
But what are the differences between the two styles of assistive communication tech? Let's break it down.
What is ASR?
While ASR technology has been around for a while, it's perhaps most associated now with voice-activated devices featuring Alexa or Siri. In a nutshell, ASR "listens" to and processes the human voice and translates it as best it can to written text. It's a type of service that is often used for commercial purposes, such as iPhone, Amazon Echo, etc., but it also has historically been used in workplace settings for conference calls and enhancing face-to-face conversations.
What is RCC?
This style of captioning service is custom-built for remote meetings via video conferencing or multi-party teleconference calls. RCC uses the same high-quality captioners that provide closed captioning for live television, news, sports and weather to deliver live, real-time text streamed to an Internet-connected computer, mobile device or tablet anywhere in the world.
The best part? Thanks to Relay South Dakota, this service is available at no cost for individuals who are deaf or hard of hearing or who have a speech disability and either work or live in the state of South Dakota!
The Differences
Now that we've laid some groundwork on how each type of service functions, what are the major differences between the two?
1. Tech vs. Human
The primary thing that sets RCC apart from ASR is how the resulting captions are processed. While ASR relies on voice-recognition technology to auto-caption conversations, RCC uses live, human captioners to listen and type the conversation in real time. While both technologies have their merits, you're likely to get even more precise accuracy with RCC, where a real person is able to listen for context, inflection and potentially tricky slang or proper nouns.
2. Cost & Access
With some of the top tech brands in the world making use of ASR in their devices, this type of service can sometimes be hard to access if you're unable to afford the equipment and tools necessary to make it work. Thankfully, RCC, offered by Relay South Dakota, makes captioning a reality for those with hearing loss or speech disabilities across the state at no additional cost to them nor to their workplaces.
3. Preference & Flexibility
Depending on communication preferences of the participants on the call, one or both parties might have different preferences on speaking into the call versus typing their comments. With Relay South Dakota's RCC service, participants are given the option to speak into the call or type their responses on their keyboard-enabled device. The captioner will then voice in to the call on the participants behalf.
4. Devices
Individuals utilizing RCC can access this service either through an embedded link in a video conference platform or via any computer/mobile device connected to the internet.
Learn more about RCC and schedule it for your next conference call by visiting the website!
Found in: Community | Technology | Lifestyle