History of Relay Service in America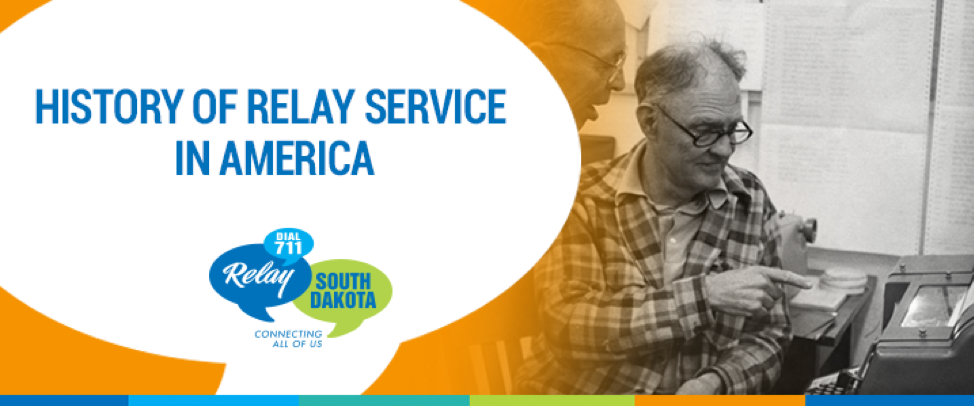 Today's Telecommunication Relay Service allows those with hearing loss the opportunity to use the telephone… but that wasn't always the case. The invention of the telephone in the 19th century was a modern marvel, yet people with hearing loss couldn't take advantage of this exciting new technology for nearly 90 more years. Thankfully, we've come a long way.
History is calling! Learn more about how Relay Services reshaped how all Americans communicate.
Beginnings
It all started with a spark. Literally! During the 1960s, scientist Robert H Weitbrecht – who had been deaf since his youth – was enamored with radio operations and communications. He invented the first Relay device, a teletypewriter telephone (TTY), that was able to send and receive typed messages through telephones.
It was destined to become a revolution for deaf, hard of hearing, or those with a speech disability. The TTY's first public display was in 1964, and its use was soon adopted throughout the country. and soon spread throughout the country. Initially, calls could only be made between TTY devices. To provide greater access, TTY relay services began – first as volunteer services with limited availability – but soon through statewide networks of Relay services.
By the 1980s, there were over 150,000 TTYs in American homes. With so many TTYs in service, it became apparent that everyone with hearing loss should be able to use them. Federal and state governments took notice, and California became the first state to establish a state Telecommunications Relay program in 1987.
ADA
In 1990, the Americans with Disabilities Act (ADA) was passed, which prohibits discrimination against individuals with disabilities in all areas of public life.
Title IV of the ADA created a nationwide system of telecommunication relay services to make telephone networks accessible to people with hearing loss and speech disabilities. This important legislation ensures equal opportunities to anyone with a disability by making communication available 24/7 all across the country!
During the following decade, video relay devices such as early mobile devices started to become more sophisticated and accessible. Today, most mobile and smart devices have video call capabilities making relay services even more available.
In 2010, the 21st Century Communications and Video Accessibility Act (CVAA) was signed into law. This updated federal communication laws to increase the access of modern communication technologies and bring laws enacted in the 1980s and 1990s up to date with new digital, broadband and mobile innovations.
Today
We've come a long way since the early days of Relay service, and it's exciting to imagine all the new innovations over the horizon. Since the start of the 21st century, a wide variety of video, voice and text technologies have improved the relay service experience. Advancements include:
The list goes on­­ – and as technologies increase and become more accessible, future Relay Service possibilities are endless! After all that's been done to innovate communications for the deaf and hard-of-hearing, Robert Weitbrecht and fellow advocates would certainly be proud.
Found in: