Holidays with the Hard of Hearing: 3 Communication Tips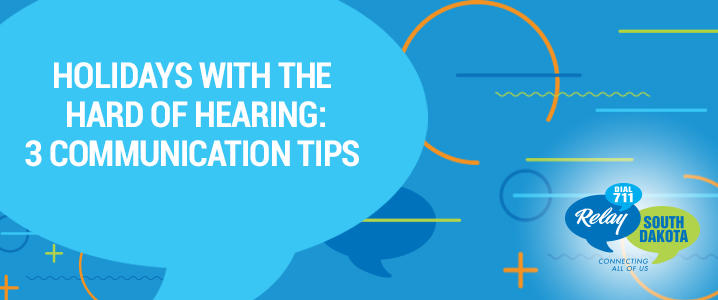 The holidays are a great time to celebrate with friends and family. There's plenty of joy to spread, food to eat and games to play. During this time of year, everyone deserves to be in on the fun. But those with hearing loss may be subject to seclusion during this festive time. This year has been isolating – don't let "the most wonderful time of the year" be isolating, too. That's why we came up with this list to help ensure the holidays are jolly for everyone.
Here are three communication tips for the holidays.
Active Engagement
Hearing individuals should be ready to step away from the crowd and communicate one on one with people who are deaf or hard of hearing. This season's festivities will look a little different from previous years, so if you're wearing masks, act accordingly. Lower masks at a safe distance so people can try to see what you're saying or consider wearing clear face masks. The Communicator™ is an FDA-approved clear face mask that is effective in reducing the spread of COVID-19. If you can't communicate in close quarters, pull out your phone and use its microphone to caption what you're saying. There are plenty of different options to support engagement. The most important part is to actively engage. Learn together what works best for you and your family!
Keep the Home Accessible
It's easy to get a little carried away with holiday lights, music and decorations. Cutting out visual and auditory distractions throughout the home can help make communication easier for people who are deaf or hard of hearing. Avoid big centerpieces at the dinner table. It's important to be able to see everyone around the table, and large decorations can be distracting and counterproductive. Good lighting is also important, so be sure to avoid candlelight-only settings.
Loud rooms with multiple noises can make it difficult for people to distinguish specific sounds. Consider turning the TV or the stereo down or completely off while guests are conversing. Little changes can make a big difference.
Don't Ignore
Holiday celebrations are often busy and hectic, but that doesn't mean anyone has an excuse for ignoring certain people. Involvement is important. It helps strengthen bonds, share ideas and connect emotionally. If there's a joke and everyone laughs, retell it or write it down if someone asks. Don't say, "It's not important," or, "I'll tell you later." Don't ignore, don't exclude. Inclusivity is more than a buzzword—it takes action. When families and friends work together, they'll have more joy this holiday season and less dread.
Relay South Dakota Is Here to Help
This season may look different for your family and friends. With many people staying home this year and avoiding those large gatherings, there are plenty of opportunities to reach out to loved ones. Video calls are becoming the new norm this season, and thankfully, Relay Conference Captioning (RCC) can make these calls accessible for everyone. With RCC, real-time captions provide full access to spoken dialogue during video calls. This ensures that nothing spoken gets missed and no one feels left out. And the best part is that RCC is available at no-cost to South Dakota residents. Get the most out of video conference calls this season with the help of RCC!
We wish you a safe, healthy and happy holiday season.