How to Be an Ally for the Deaf Community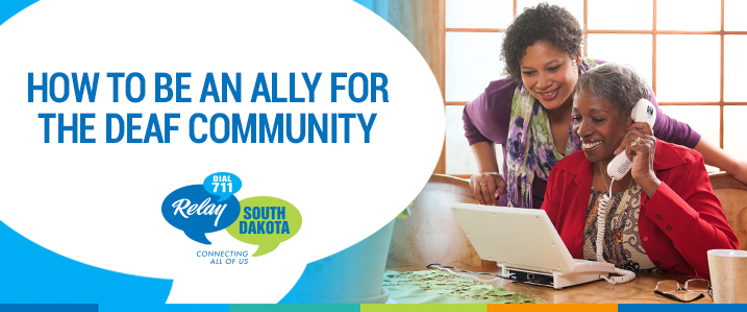 Do you consider yourself a Deaf Ally? There are many different definitions of an ally, just like there are many ways to help promote equality. For this discussion, the most important definition of an ally is someone who is united with the deaf community to promote equality. Being an ally means so much more than simple consideration for the deaf community. Action and accountability are key to help facilitate support.
Here are some tips on how to be an ally for the deaf community.
Fight Against Misconceptions
Ignorance surrounding the deaf community is unfortunately common. As allies, it's important to fight against misconceptions and stigmas and help promote equal and appropriate treatment. Recognizing and avoiding common misconceptions can help break the communication barrier. Examples include:
Being deaf means that you can't hear anything.
Hearing aids make you hear perfectly.
People who are deaf cannot talk.
Hearing loss only affects older people.
By recognizing misconceptions, you'll be able to avoid them — and treat people with hearing loss appropriately and pleasantly.
Support in the Workplace
Equal opportunity in the workplace is not possible unless your deaf colleagues have proper accommodations. Workplace barriers exist, and because of this, employers and organizations must act appropriately. Supervisors, make sure your hard-of-hearing colleagues are supported. Below are a few workplace accommodations for employers to consider:
Workplace training
Smart technology with speech to text or text to speech
Real time captioning for live events or meetings.
Telecommunication equipment
Interpreters
Promote Advocacy
We should always encourage learning from different perspectives, experiences, and identities. Sometimes we need to educate others about how to be a good ally. Hearing allies can play an important role and help empower the Deaf community.

Despite protective laws like the Americans with Disabilities act, many people who are hard of hearing struggle with discrimination in the public sphere. It's important we take a stand and work to remove all forms of discrimination. We should always promote the necessary accommodations and treatment. Organizations like the National Association of the Deaf (NAD) have plentiful resources and information to help preserve, protect and promote the civil, human, and linguistic rights of deaf and hard-of-hearing people in America. Explore their resources for more information on how to be an effective ally.