Leaving on a Jet Plane: Travel Tips for People with Hearing Loss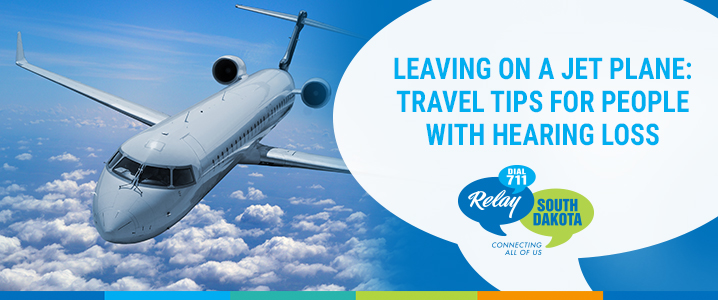 Traveling for fun is scientifically proven to make us happier and healthier, but if you're traveling with hearing loss it can be stressful, too. If you're one of the over 20 million people in the U.S. with hearing loss, don't stay home. Travel prepared!
Check out these travel tips for people with hearing loss.
1. Be prepared for loud, hectic situations.
Arrive early at the airport, bus terminal or train station. If you're not sure where to go, ask a staff member or help desk attendant for assistance. When in doubt, write it out! Keep an old-school notebook and pen handy for easy communication - or use the notepad feature on your tablet or smartphone. The TSA does not require removal of any hearing aid devices – but you should let the boarding gate agent know if you wish to be notified in person when it's time to board. You can also sign up to receive flight change alerts via text or email.
2. Try to make all travel arrangements in advance.
Working with a travel agent can be a big help when traveling with hearing loss. They're experts at contacting airlines and hotels, suggesting attractions and making necessary reservations for everything from restaurants and theatres to rental cars and more. Remember to keep printed copies of all confirmation numbers, reservations and maps. If you don't use a travel agent, it's important to do your research to take advantage of specific amenities for people with hearing loss.
3. Don't be afraid to ask for help.
Most major airlines have Telecommunications Device for the Deaf (TDD) services to assist passengers – and TSA agents, gate attendants, flight attendants and other service staff are there to help you get to your destination safely and comfortably. If you're flying or traveling by train, consider reserving aisle seats so you can get their attention easier. Your fellow travelers will often be more than willing to help, too.
Planning a trip soon? Then it's definitely time to learn more about the latest Android and iPhone technology. Check out our roundup of the top smartphone apps for people with hearing, vision or speech disabilities.
Found in: Lifestyle