Must-See Movies: 5 Deaf Stars & Characters We Love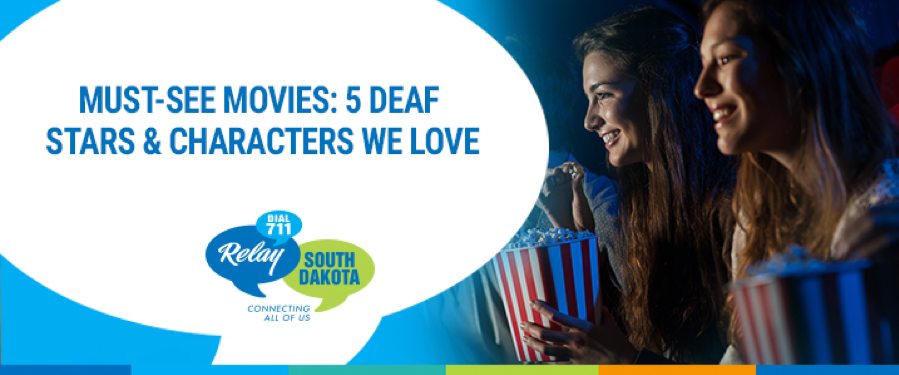 If you ask most people to name popular deaf or hard-of-hearing stars in Hollywood, one actress reliably comes to mind: Marlee Matlin, Oscar-winner for "Children of a Lesser God" in 1987. After that, it's usually silence. But recently deaf stars and deaf characters are retaking the spotlight.
Let's hear it (ugh, bad pun) for these five deaf stars and characters we love.
1. Millicent Simmonds – "A Quiet Place" and "Wonderstruck"
Teenager Millicent Simmonds is taking Hollywood by storm – with two major motion pictures and one Spanish TV series already under her belt: A Quiet Place (2018), Wonderstruck (2017) and Tria33 (2015-2017). She was recognized by the Associated Press as one of eight Breakthrough Entertainers of 2017. In a recent op-ed for Teen Vogue, she declared: "There's a lot more to me than just being deaf." We're inspired by her story and her performances – and excited to see where her career takes her.
2. Russell Harvard - "The Hammer"
If you're into uplifting, powerful sports movies, "The Hammer" has it all – based on the true story of Matt Hamill, the first deaf wrestler to win a National Wrestling Championship. One reviewer wrote, "This is a movie the deaf have been waiting for decades, but it will be seen by everyone as a very special movie for decades to come." We couldn't agree more. Lead actor Russell Harvard, who is deaf in real life, was born into a third-generation deaf family. He has also appeared in "There Will Be Blood" with Daniel Day-Lewis and had a recurring role in both "Fargo" and "Fringe" – and starred in the off-Broadway play "Tribes."
3. CJ, TL, Bob and Robert – "See What I'm Saying"
Technically, they should count as four, but this ensemble cast combines for a hilarious, and poignant, year-long documentary that should be at the top of anyone's must-see list. CJ Jones is a deaf comic fighting to find his mainstream audience (he was also a scene-stealer in the recent movie "Baby Driver"). TL Forsberg is a hard-of-hearing singer who struggles to be accepted by the deaf community. Robert DeMayo is a brilliant actor who teaches at Julliard, but still finds himself homeless. And Bob Hiltermann is a drummer in the world's only deaf rock band. Together, their stories form a powerful window into deaf culture.
4. Katie Leclerc and Sean Berdy - "Switched At Birth"
They aren't on the big screen yet, but watch for these two actors to do big things in the coming years! Both starred in a popular ABC Family series about two teen girls who discover they were accidentally switched at birth. Katie played Daphne, a character who lost her hearing as a child due to meningitis. In real life, Katie has Meniere's Disease, which makes her hard of hearing. Up-and-coming deaf actor Sean Berdy played Daphne's friend Emmet. The series even included one episode shot almost entirely in American Sign Language.
5. Marlee Matlin
No Hollywood movie list is complete without Matlin. When "Children of a Lesser God" came out in 1986, it was the first movie since the silent film era to feature a deaf actor as a lead character. But did you know that Matlin, who has been deaf since childhood, is a tireless advocate for actors with disabilities? She also helped the National Association of the Deaf (NAD) advocate for closed captioning on streaming services like Netflix and Hulu. Captioning is now a requirement for all streaming sites. Way to go, Marlee!

Found in: Community