New Innovations in Hearing-Assistive Devices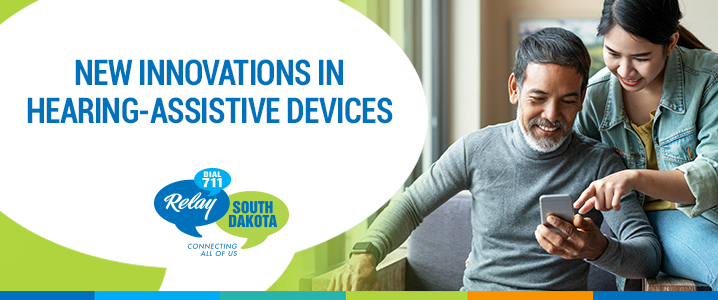 HATs off to Hearing Assistive Technology! (See what we did there?) They're the devices dedicated to helping you hear better – and communicate easier – no matter where you are. And thanks to ever-evolving smartphone technology, they're doing it with even more precision, sophistication and convenience than ever before.
Read on to learn more about the newest innovations in hearing-assistive devices and what they can do for you.
Back in the day, hearing assistive devices included things like captioned telephones, close-captioned TV, frequency-modulated (FM) systems, induction loop systems and signalers/amplifiers for alarms, answering machines, doorbells, and computers.
Today, those tried-and-true devices have some high-tech companies. Developers and product manufacturers have been stepping up their game to deliver a new generation of HAT devices.
Here are three up-and-coming HAT innovations we're particularly excited about. Who knows where the next few years will take hearing assistive technology?
1. Sign Language Robots
Yes, you read that right. Researchers at the University of Antwerp in Belgium have spent the past several years working on a 3-D printed robotic arm (code name "Aslan") that can recognize spoken and written words via webcam and then translate them into sign language.
2. Real-Time, Multi-Lingual Sign Language Translations
A Texas company called KinTrans has developed a mobile app called "Hands Can Talk" that translates sign language to voice and text for conversations between signers and speakers, in real time. It can already recognize thousands of signed words in multiple languages.
3. Real-Time, Speech-to-Text Transcriptions
Ever been in a group situation where it's tough to filter out background noise, or to isolate what's being said with so many people talking? SpeakSee devices use clip-on microphones to isolate speech and transcribe it in real-time captions on your smartphone. The system supports up to 9 microphones at a time and can be used on a variety of devices. It's still in development but will be available for iOS and Android devices as well as desktop and laptop computers.
Found in: Technology