Sign Language History Heroes: Charles-Michele De L'Epee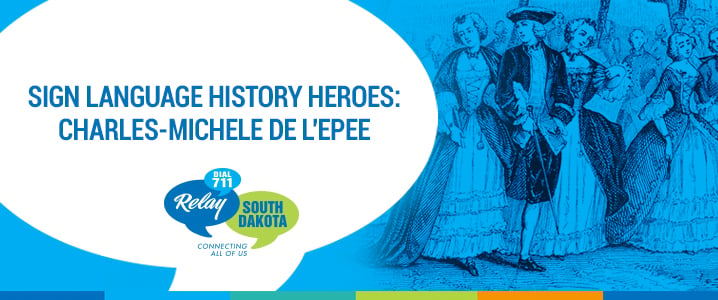 Can you imagine a world where deaf people not only have no rights – but were considered "senseless" and incapable of learning? That was 18th century Europe. French priest Charles-Michel de l'Epee (1712-1789) set a course for change.
Centuries after his death, he is still recognized as The Father of Sign Language and Deaf Education.
Changing centuries-old mindsets about the fundamental human rights of deaf people must have seemed insurmountable at the time. But Charles-Michele de l'Epee took on the challenge, systematically working to teach deaf children – and starting a revolution in the process.
The son of a wealthy architect who worked directly for King Louis XIV, Epee could have lived a life of leisure. Instead, he studied theology and law.
While living in Paris, he met twin girls who had been deaf since birth. Epee began teaching them a form of hand signals that substituted the sounds of the alphabet. His methods became so successful that Epee took on more and more students from all walks of life, not just from wealthy families.
He wrote in his 1784 book, La Veritable Maniere d'Instruire les Sourds et Muets, Confirmee Par une Longue Experience (The True Method of Educating the deaf, Confirmed by Much Experience):
"Destitute class of persons who, though similar to ourselves are reduced, as it were, to the condition of animals…that I consider it an absolute obligation to make every effort to bring about their release from these shadows"
Epee devoted his life to accomplish all this:
Founded the first public school for the hearing-impaired in France.
Developed the world's first sign alphabet for the deaf.
Created a systematic method of teaching the hearing impaired.
His manual alphabet, which he called French Sign Language, was adapted into American Sign Language a few decades after his death.
Found in: Community