Spotlight on International Week of the Deaf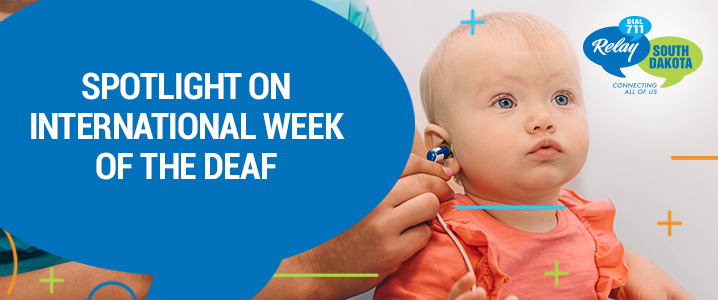 As the International Week of the Deaf comes to a close, that doesn't mean the celebration ends. Deaf people continue to make huge strides in the community - ones that deserve to be acknowledged. But we can't do it alone. Anyone can be an ally. In this blog, we look at what it means to be an ally and how we can continue to understand and celebrate differences in our day-to-day lives.
A common misconception is that a deaf person is "hearing impaired." The term "impaired" is rejected by the deaf community, as it implies that the person is lacking something. For someone who is deaf, it's a part of who they are. It's a trait that people who can hear have trouble understanding because so much of their communication relies on sound.
In fact, there are a variety of strengths when it comes to communication:
Body language – Deaf people have a sharp eye for body language. Similar to someone walking out of a room mid-conversation, in Deaf culture, it's rude to look away from someone when they're signing to you. Even things like posture and facial features can shift the tone of a conversation.
Being direct – For Deaf people, it's all about getting to the point. For someone who can hear, saying something like, "the man with the big nose," would be considered rude, but for a deaf person, that's an accurate description.
You can read more on the differences between deaf culture and hearing culture in our blog. It's important to discuss our differences so we can understand and, most importantly, celebrate them. It helps to create the valuable connections that Relay South Dakota is all about.
Connecting People
Helping South Dakotans connect is what we do best at Relay SD. We provide services at no-cost that include telephone accessibility for people who are deaf, are hard-of-hearing, are deaf-blind, experience low vision, or have a speech disability.
There are also tons of equipment options available that utilize the services of Relay SD:
TTY – Uniphone & Ultratec
Mobile Devices – iPads & iPhones
Amplified – Corded and Cordless Telephones
Captioned Telephones
Accessories – Cellphone Amplifiers, Vibrating Alarm Clocks, Smart Phone Alert Watch, etc.
This technology combined with our service has connected friends and family and helped deaf people avoid situations that would have otherwise proven difficult. Relay works every day not just to be allies of the deaf community, but also to inspire others to be.
How to Be an Ally
Do you consider yourself an ally? That term has many definitions – almost as many as the number of ways you can be an ally.
One way you can make a difference is to fight against misconceptions, such as:
Being deaf means you can't hear anything

Hearing aids make you hear perfectly

People who are deaf cannot talk

Hearing loss only affects older people
And those are only a few. We cover more ways you can be an ally in our blog. It details how to promote advocacy and show support in the workplace. If you wish to be an ally, but don't know where to start, you can celebrate with us on the annual International Week of the Deaf.
Celebrating Thriving Deaf Communities
That's what it's all about - an annual tradition during the last week of September where communities all around the world unite. The International Week of the Deaf is an event that is celebrated through the World Federation of the Deaf – a global organization dedicated to ensuring equal rights to more than 70 million people around the world.
Each day highlights the history or an aspect of the deaf community:
Monday – Cherishing Deaf History
Tuesday – Sustainable Deaf Leadership
Wednesday – Sign Languages for All Deaf Learners
Thursday – We Sign for Human Rights
Friday – Intersectional Deaf Communities
Saturday – Deaf Culture and Arts
Sunday – Human Right in Time of Crisis
All of this culminates with the International Day of the Deaf on Sunday.
Showing support is easy. We just have to be willing to learn and celebrate our differences. Some see being deaf as a weakness, but that's a misconception. In fact, it holds many strengths in connecting with others.
Continue to celebrate strength. Celebrate connection.
Found in: Health