"Tap to Alexa" – Smart Speakers Evolving for Hearing Loss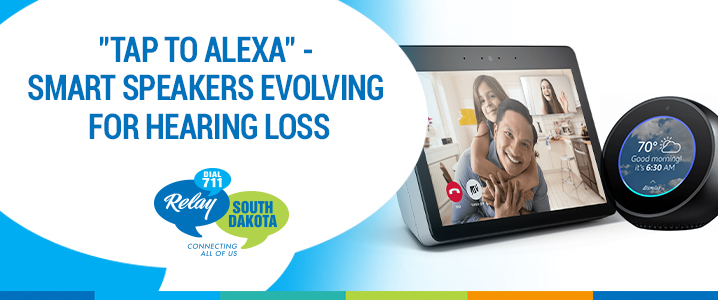 We are living in the golden age of assistive devices. It seems like every day comes with new and exciting advancements that further promote accessibility and empower individuals who are deaf, hard of hearing, deaf-blind and/or speech disabled. Alexa is Amazon's personal assistant program. Alexa, and similar personal assistants such as Google Home and Apple's Siri, perform actions and scour the web for information based off of voice commands. One of the most recent advancements in accessibility is a new feature for Amazon's Echo smart speakers called "Tap to Alexa."
Read on to learn more about the latest advancement in smart speaker accessibility.
What is "Tap to Alexa"?
Simply put, Tap to Alexa allows those who own an Amazon Echo device with a screen—such as an Echo Show or an Echo Spot—to use many of Alexa's features without needing to speak to the device. Knowing this, the implications for those who have difficulty speaking are obvious but coupled with Alexa captioning, it opens up use of the device to deaf, hard of hearing, deaf-blind and speech disabled individuals.
How to Set Up "Tap to Alexa"
Enabling the feature is simple. Set up Tap to Alexa with a few quick taps by following these instructions:
On the home screen, start by swiping down to reveal the touch control bar on your Amazon Echo Show or Echo Spot.
Select "Settings" from the touch control bar.
On the "Settings" page, scroll down and select "Accessibility."
On the "Accessibility" page, scroll down and tap the toggle switch next to "Tap to Alexa."
Tap "Continue" on the pop-up page to complete the process.
After completing these steps, you should see a new finger-tapping icon on your home screen. You should now be ready to use the feature.
How to Use "Tap to Alexa"
Tapping on the finger-tapping icon on your home screen will now pull up a series of icons like those you would find on a tablet. The Tap to Alexa options include:
Quick Question
Stop
Weather
Timer
News
Alarm
This list is far from all-encompassing because Amazon also allows you to create new icons for custom actions—so you can completely customize your home screen to accomplish your most-used Echo actions. For irregular or more in-depth questions, users can tap the keyboard at the top of the Tap to Alexa page, which will allow you to type out a question for Alexa to answer.
With bigger companies continuing to push the envelope in terms of the usability of their devices—accessibility has shifted to the forefront of the conversation in the tech world—and the deaf and speech-disabled communities are sure to take note.
Found in: Technology