Tech Tools for the Hard of Hearing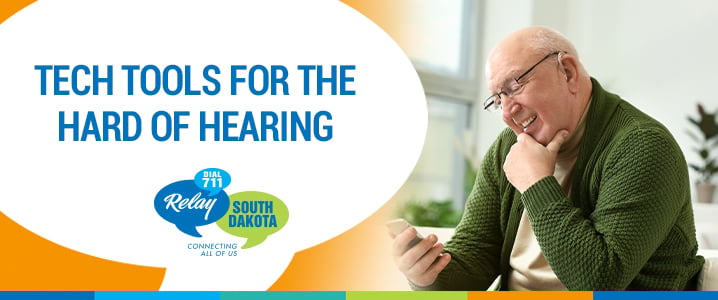 Assistive technology can improve people's lives considerably. It promotes independence, productivity and inclusion to those who are deaf or hard of hearing. We live in a world that's quickly evolving, and because of this, assistive technology is prime for innovation and production. Over 54 million Americans have a condition that requires some type of assistance throughout their day – so there's plenty of need for assistive technology.
While this type of technology has made improvements over the last decade, new products are always stepping up to the plate to try and tackle problems. There are plenty of examples of assistive technology being used today, but…
Here are some of the most helpful tools for the hard of hearing and how Relay SD can help.
Work Remotely with Relay Conference Captioning
Remote work is becoming the norm these days — but you need the right equipment to be successful. Relay Conference Captioning (RCC) is a free service available for deaf and hard-of-hearing South Dakotans that allows people to join and participate in remote meetings via video and/or audio-only conference calls using live captioning. Captions are streamed in real-time to the participants' computer, mobile device or tablet. So, wherever you are and whatever you're doing, as long as you've got an internet connection, your remote meeting will be set for success!
Make Calls with CapTel
Captioning devices benefit millions of people around the world and make content more accessible for the hard of hearing. These devices help make everyday tasks, like talking on the phone, a little easier. Captioned Telephones or CapTel operates like any other telephone — but with an important distinction: CapTel phones display every word the caller says throughout the conversation and allow users to read those responses easily. These phones give you the option to listen to the caller, read responses or do both simultaneously. Since there are multiple models to choose from, users have the opportunity to prioritize which features they'd like. Relay SD captioned phones are available at no cost to qualifying users, thanks to the Telecommunications Equipment Distribution Program (TED).
Stay Connected with Online Relay Services
Communication devices for the deaf continue to improve and common devices like smartphones and other video chat technologies are now more accessible than ever. With Video Relay Service (VRS), American Sign Language (ASL) users are able to communicate using their natural language with hearing peers through video conferencing or videophone equipment. Calls are then aided by qualified ASL interpreters to facilitate the conversation.
Whatever the conversation may be, be a part of it with the help of Relay SD. Staying connected with family, friends, and coworkers is more important than ever. These tech tools are just a few of the ways Relay SD can help. Learn more about these programs and get started today.
Found in: Technology