Top 5 Amplified Phones for Seniors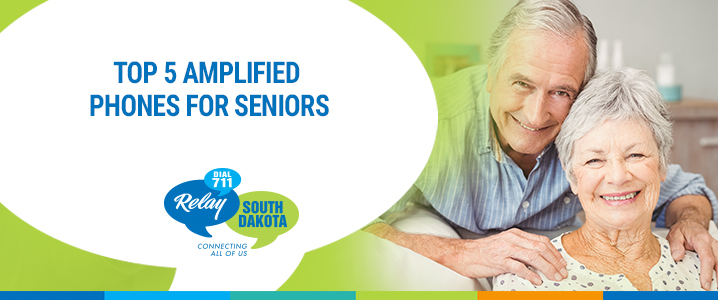 All amplified phones are not created equal! From a phone's design to the features it comes with, it can be confusing to know which one is right for you. We turned to Amazon, one of the world's largest online retailers, to find some of the highest-rated cordless and corded amplified phones available from Relay South Dakota.
Check out the top five amplified phones for seniors, as rated by Amazon.com consumer reviews.
1. Future Call Amplified Picture Phone
With a big-dial keypad, handset volume control, volume gain up to +40 decibels and bright red LED lights for incomign calls - this phone earned 4.1 out of 5 stars. One reviewer wrote, "Fantastic product. Best thing we've ever gotten for our memory-impaired family member. Very easy to program."
2. ClearSounds Handset Landline Phone
With large, easy-to-see buttons plus speed-dial picture buttons and up to 50 decibel amplification, this phone offers a variety of mobile phone sharing capabilities, too. One reviewer wrote, "This loud phone with large print and photo identification speed dial is so easy, my technologically impaired family can use it."
3. Clarity XLC2+ Amplified Cordless Phone
With +50 decibals for extra-loud amplification and a +95 decibal flashing ringer, this phone definitely gets noticed. Users also like the Talking Caller ID feature to announce the phone number and name of an incoming caller. One reviewer wrote, "It works perfectly for my 98-year old mother."
4. Panasonic KX-TGM450S Amplified Cordless Phone
Interested in an integrated answering machine? Clocking in at a solid 4 out of 5 stars, this Panasonic phone amplifies incoming sounds up to 50 decibels. It also has a "slow talk" button to automatically slow the speed of speech while conversing in real time. One reviewer wrote, "My mom loves this phone, can see the buttons easily, hears the ring tone and conversations very well. She really likes that it announces who is calling."
5. Serene Innovations CL-65 Amplified Cordless Phone
Here's another big-button, cordless phone that received high marks. It amplifies incoming sound up to 55 decibels with HDS (high-definition sound) technology for crisp, clear audio. One reviewer wrote, "The dial buttons are big, the sound is loud, and most features are well thought-out for seniors."

Found in: Technology