Top 5 Fire Safety Devices for People with Hearing Loss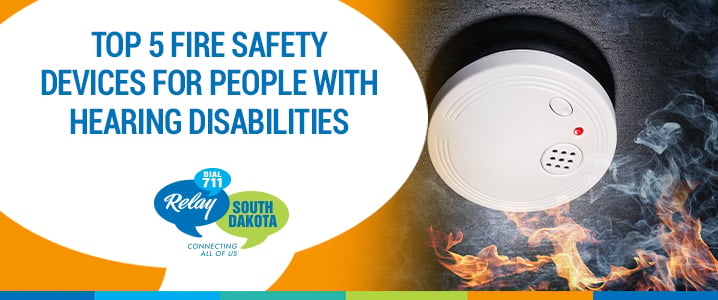 A fire can start anywhere, anytime. In fact, residential fires occur more frequently in the colder months. And according to the Federal Emergency Management Agency, 51% of all house fire deaths occur from 11pm to 7am when most people are asleep. Because a majority of fire alarms are auditory, people with hearing loss are more susceptible to the dangers of house fires – especially in the nighttime.
Prepare yourself by learning about the variety of smoke alarms and fire safety devices available for people with hearing loss.
Strobe Lights
Strobe fire alarms are designed to alert hearing impaired individuals of smoke or carbon monoxide. With a bright dependable alarm, these flashing lights can alert individuals even when asleep. Some strobe light alarms have different flash patterns as well that can distinguish between different warnings. Today, most non-residential fire alarms include lights, and it'd be beneficial to include them in your home.
Vibration Appliances
A bed shaker can be a useful tool for those who might not wake up to standard audio or visual smoke detectors. By hooking it up to a traditional fire alarm and placing it underneath a pillow, the bed shaker will vibrate when smoke it detected and flash "FIRE" on its screen. According to the American Red Cross, fire safety vibration tools have saved more than 800 lives.
The Red Cross also installs a limited number of specialized bedside alarms for deaf or hard-of-hearing individuals. To request a free installation, visit getasmokealarm.org.
Sprinklers
Smoke detectors are important, but they unfortunately do nothing to subdue fires. Home sprinkler systems can both alert you and help extinguish fires. Not only can they be lifesaving, but on they can reduce the amount of smoke and fire damage to your home.
Fire Extinguisher
Having personal fire extinguishers on each level of your home is smart. Though most house fires start in kitchens, having multiple extinguishers can eliminate any problems reaching one because of a fire. Make sure you checked each pressure gauge monthly and documented your findings. A complete fire extinguisher breakdown and internal inspection should be done every six years.
Fire Blanket
Fire blankets are safety devices that can extinguish early and small fires. They are good items to keep in the garage, car or home. Not only can fire blankets smolder small fires, but they also can add extra protection by wrapping yourself when trying to exit a burning building.
Make sure your fire safety devices are easily accessible whether you're grabbing an extinguisher to stop a fire or changing the batteries on smoke detectors. Protect yourself and your home with these fire safety devices. You can read more about hearing assistive devices here.
Source: https://www.usfa.fema.gov/downloads/pdf/statistics/v18i4.pdf
Found in: Technology | Lifestyle