Transforming Communication: 4 Exciting Technologies for the Deaf and Hard of Hearing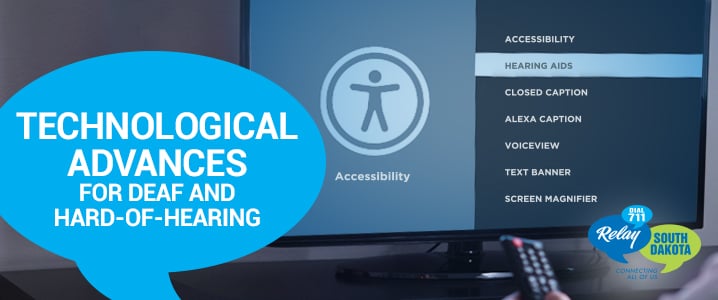 Technology can help people who are deaf or hard of hearing in many ways. It can make it easier for them to communicate, enjoy media and live their lives.
There are always new advancements in technological aids being introduced. These advancements include better accessibility options for implants, the ability to see captions during conversations and more. Here are four technological advancements that can help people who are deaf or hard of hearing.
Some people who use implants or hearing aids may struggle to understand conversations on TV. Even with closed captions, it can be difficult to follow fast and overlapping dialogue.

Now, Amazon Fire TVs can directly connect to certain types of Cochlear Nucleus and Baha implants, such as Cochlear Nucleus 8, Nucleus 7, Nucleus Kanso 2, and Baha 6 Max sound processors. Fire TVs can also connect to Starkey Bluetooth hearing aids to improve the streaming experience.

This feature allows users to enjoy watching TV more easily, as the sound goes directly to the implant when they are within 10 feet of the TV. They can stream shows, movies, music, and more without any echoing or loss of sound quality.

In recent years, there has been a push for closed captions to be offered on all types of media — even on social media platforms like YouTube and TikTok, where they are often generated automatically. These captions have begun to extend beyond screens and entertainment.
A new app called XRAI Glass has been created to pair with augmented reality (AR) Nreal Air glasses. With the app and glasses, deaf and hard-of-hearing individuals can take advantage of seeing captions of real-time conversations appear right in their field of vision. As people talk, a transcription follows various speakers, marking them as different and making conversations much easier to follow.
According to tech reviewer Simon Hill, who was able to test the AR glasses for himself, the app may be a better tool by itself than paired with the AR glasses because they are expensive and captions obstruct the viewers field of vision. Hopefully this tech will become more affordable with time, as the development continues.
With or without the glasses, the app keeps track of conversations and saves the transcriptions so they can be reviewed later.
AI sign language translators could change how the deaf and hard of hearing experience media.
Signapse is a group of both deaf and hearing people developing synthetic AI signers for phones to translate broadcast media, provide automatic transportation announcements and provide accessibility to about 80,000 deaf people. The synthetic signer will turn words into sign language automatically, making communication in various settings more accessible.
For deaf and hard-of-hearing people, one simple thing can make consuming movies, TV shows and other video media easier: subtitles, subtitles, subtitles.
In Japan, AI-Mimi pairs Microsoft Azure Cognitive and human input to create subtitles for live broadcasting. While typical subtitles appear in two lines on the screen, AI-Mimi has a model with more than 10 lines of text to the side of the TV program rather than covering parts of the screen.
During the demo of this program with a live broadcast channel in Japan, there was a lot of positive feedback because the technology doesn't require any special equipment and is cost-effective.
While some of this technology for the deaf and hard-of-hearing communities is not yet available to South Dakotans, the innovation behind these tools is a step towards more accessibility. Hopefully, these accessibility tools and others like them will continue to improve and become globally available sometime in the future.
Sources: CBS News, Wired, AI Magazine Article, Microsoft
Found in: Technology