Feel Confident with Age-Related Hearing Loss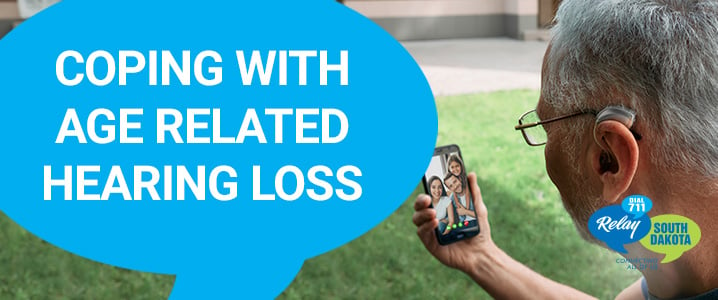 As we get older, some things no longer come as easily to us. If you find it difficult to understand others when you're talking with them even when everyone else seems to be following along just fine, you may be experiencing age-related hearing loss.
Common signs of age-related hearing loss include:
Struggling to understand what people are saying on the phone.

Having a hard time following conversations with more than one person.

Often finding yourself asking people to repeat themselves.

Struggling to hear the TV unless the volume is too loud for others.

Struggling to understand high-pitched voices and sounds.
You are not alone in this, and there are many tools to help.
While it can feel like an isolating situation, you are not alone. Millions of people experience age-related hearing loss every day. There are ways to manage it and stay connected with those around you.
What Do You Need To Know If You're Experiencing Hearing Loss?
If you notice you're experiencing any of the signs of age-related hearing loss listed above, learning skills and finding the best tools for you to adjust to your hearing ability will set yourself up for success. This can make all the difference and keep your personal relationships strong.
How you cope with your hearing loss can positively impact your quality of life and those around you, according to a study from the National Library of Medicine. This study focuses on strategies like social support, problem-solving, positive thinking and avoidance. The first three strategies have overall positive effects on quality of life. On the other hand, avoidance has negative effects, so it's better for your quality of life to not ignore the signs and to figure out the strategies that work best for you.
How Can You Best Cope With Your Hearing Loss?
1. Talk to a healthcare provider to get a diagnosis and explore your eligibility for hearing aids or other devices that can help make communication easier.


A common myth about hearing aids is that they are all bulky and uncomfortable, and that may deter you from getting them for yourself. The truth is that hearing aids have improved in many ways over the last few years. Not only does the hearing-assist technology work better than ever before, but hearing aids come in many sleek designs free of bulky batteries. These rechargeable, battery-free models work just as effectively as the older models while being much smaller and more discreet. Depending on your preference and level of hearing loss, you could choose behind-the-ear, in-the-ear or canal hearing aids.

2. If you feel you're missing information when talking to others because of age-related hearing loss, the
National Institute on Aging suggests the following tips to rejoin the conversation:

Be open about your hearing loss with your friends and family.
Find a quieter place to listen, or stand between any noises and the person you're talking to.
Don't be afraid to ask people to repeat themselves or let them know you didn't understand.
Ask them to speak more clearly.
Pay close attention to facial expressions and gestures that can provide context clues.
3. Relay SD offers communication access tools to help make phone calls, working remotely and all telecommunication needs easier. Check out some of our previous blogs about Relay services to decide which ones would work best in your life.


We are here with the right tools to make sure that age-related hearing loss doesn't impact the positive relationships and experiences in your life, so you can continue to engage fully in the conversation.

Sources: National Library of Medicine, National Institute on Aging
Found in: Technology