Stay Connected with Remote Conference Captioning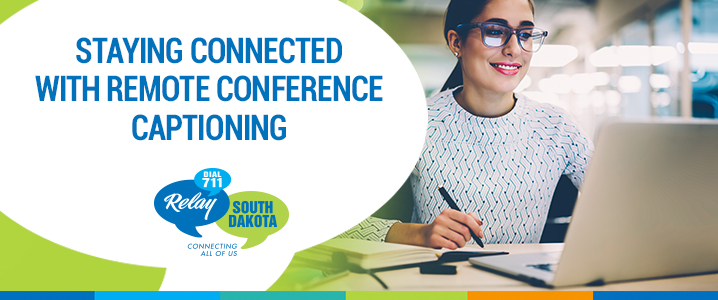 Teamwork makes the dream work – especially when it comes to business conference calls. Relay Conference Captioning (RCC) empowers deaf and hard-of-hearing professionals with real-time, streamed captioning during conference calls and webinars.
It's a must-have collaboration and communication tool for today's high-productivity workplace.
RCC Is Fast and Accessible
RCC uses the same high-quality captioners that produce the closed captioning that you see on live TV. Users can participate by reading the real-time text streamed to their preferred device.
Computers
Smartphones
Tablets
Laptops
All you need is Internet access; no installation or purchase is necessary. Communicate through two easy options.
Speak: RCC users can speak directly into the conference call and join the audio conference bridge that's provided on your streaming device.
Type: RCC users are also able to type responses. Captioners will then voice those comments into the call at the earliest break in the discussion or at any appropriate time. While the captioner speaks on your behalf, you will see your original message to the captioner added to the streaming display.
Key Benefits
RCC is a free-of-charge service for South Dakotan residents, and with a 98% or higher accuracy, you can rest assured that your conference will run smoothly and quickly. Live, real-time captions can be delivered up to speeds of 180 words per minute. There are also options to save, email or print the text transcripts of the meetings – a commodity from which everyone can benefit. Watch the video below to see some of the benefits of RCC.
Additional Features
RCC also allows you to modify font styles, colors, sizes and background colors to ensure easy reading. Thanks to its embedding feature, users can view captions from within the webinar itself or side-by-side on your monitor screen. This allows users to seamlessly watch both presentations without missing out on any visuals or spoken information.
RCC web conferences allow companies to effectively combine the advantages of conference calls with an all-encompassing captioning technology. Ensure your whole business is on the same page. No matter how remote participants are, receive the same information at the same time.
Take advantage of this service for your next work conference, and learn more about other telecommunication benefits at RelaySD.com
Be sure to reserve a captioner 48 business hours before a conference to guarantee service.
Found in: Technology | Lifestyle