Improving the Classroom Experience for Hard of Hearing Students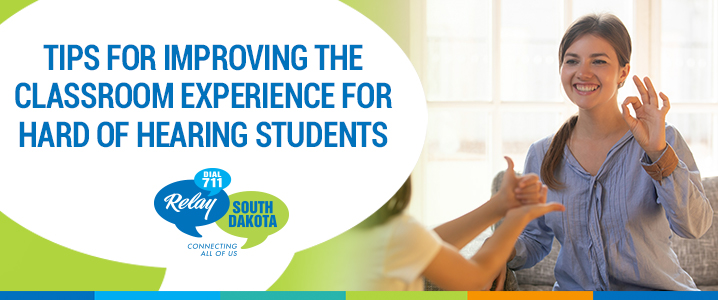 This has already been a tough year for students and teachers, but as school doors open this fall and winter, they may experience more challenges than ever before. This is surely true for students with hearing loss… and for teachers that are new to accommodating these students. Teachers of course embrace the responsibility to teach every single student in the classroom. While students who are deaf or hard-of-hearing may require accommodations to learn effectively, it's up to the instructors and teachers to ensure proper schooling.
Follow these few tips on how to improve the school experience for students who are deaf.
Lip Reading Opportunities
According to Kim Wadsworth, the South Dakota School for the Deaf Superintendent, it's extremely important that students and teachers wear clear face masks during this time. She says that too much information is lost when you can't see the whole face. Adding in social distancing and noisy background, communication will quickly become frustrating. Full-face coverings and social distancing present barriers to all students, making learning much more difficult.
Children who are deaf or hard of hearing have unique educational needs, so accommodations must be in place for access in the school setting. When a clear mask is not available, a face shield can also be used. This allows access to a person's face to pick up facial cues and speech reading.
If classes aren't remote, give students who need to lip-read the opportunity to sit at the front of the class. This will decrease distraction and give a clear view of the instructor. Also, be sure to respect a student's wishes if they choose not to sit upfront. It's important that classroom discussions happen with one person speaking at a time. If the conversation is jumping around the room, it can be harder to follow.
Provide Lesson Notes
Before each class starts, it's very helpful if teachers provide students with class notes and an overview of the day's lesson. Handouts are always encouraged and can keep things organized. Notes help students follow along with lessons, as well as give them a preview of what to expect later in the class. Lesson notes will also help students that are doing homework outside of the classroom.
Visual Learning & Captions
Visual learning is a great way for any student to gather information. Diagrams, pictures, and videos are excellent ways of presenting lessons – they're memorable and are easily digestible. On the subject of visual learning, it's important to include captions for every video shown during class. Without the proper captions, these students can't track to the extent every student has a right to expect.
Interpreters
Finally, this might come as a no-brainer, but if available, use an interpreter. These professionals have the ability and obligation to render messages faithfully and with the proper context. It's standard for any teacher to speak at a reasonable volume and pace, and an interpreter makes this easier for him or her. This ensures that everyone can follow along with the lesson.
This much is certain, we need to be ready for any challenges that modified in-class learning and remote learning might cause. Work closely with your student and their parents to find the best solution for access during this unique time. Reach out to the South Dakota School for the Deaf (SDSD) for support and guidance. 605-367-5200. SDSD has trained teachers of the deaf, speech-language pathologists, and pediatric audiologists that will connect with you to support your student's individual needs.
These are just some of the different ways you can improve the classroom experience for students who are hard-of-hearing. Every teacher's goal should be total inclusivity. Follow these tips while staying respectful and sensitive of your students' needs. If you're a teacher, consider alternative forms of teaching to ensure inclusivity. Learn more about Relay South Dakota's many resources that help those with hearing loss.