Video-Assisted Speech-to-Speech (VA-STS)
Visual cues and facial expressions can add so much to a conversation. Relay Video-Assisted Speech-to-Speech allows a person who has a speech disability to use both a telephone and a video device to make Relay calls. The Communications Assistant (CA) repeats the STS user's spoken words, but how much is re-voiced is up to the STS user; all of the conversation or only what's not understood. The additional visual cues during the conversation can improve the quality of the STS call experience.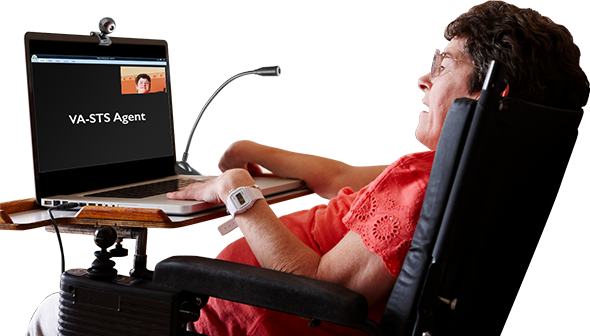 What You Will Need
Each video-assisted call is accomplished with three important pieces of technology:
A telephone (a device with a speakerphone is recommended)
High-speed Internet connection
A laptop or desktop computer with a Webcam: You will be using a web-based video conferencing software to complete the call.
The ability to operate the equipment (independently or with assistance) is important for a successful call to be placed with VA-STS.
NOTE: Before making your first VA-STS call, you are encouraged to request one-on-one training, in person or remotely, to facilitate a quality experience. Please call the South Dakota Relay Customer Service at 877-866-8950 for more information or assistance.
How to Access Zoom VA-STS Video Conferencing
Connect to Speech to Speech with your phone. Dial 711 or 877-981-9744.

Inform the STS communications assistant (CA) that you would like to make a VA-STS call. The STS CA may give you instructions if needed.

In your web browser, go to https://va-sts.zoom.us and click Join.



The STS CA will give you the Meeting ID number to fill in the field labeled Meeting ID. Click Join.



The "Launching…" screen will appear. Click the Join from your browser link.



Type in your name how you wish it to appear in the call.



Once connected, click the X on the right side of the screen. Your computer webcam should turn on. If not, move your mouse to the lower left and click the Start Video icon.



This is a one-way video connection – the STS CA will see you but you will not see the CA. You are all set to give the STS CA your call instructions using STS with VA-STS.



When your call ends, click Leave Meeting to hang up and log out. NOTE: If you do not log out, you will remain connected to the meeting room.

How to Make a Video-Assisted Speech-to-Speech Call
Simply dial 711 or call the South Dakota Relay STS toll-free number at 877-981-9744. Inform the STS CA that you would like to make a VA-STS call. The CA will initiate a one-way video session with you and then dial the person you want to call using standard STS procedures.
Don't want to use video? Click the button below to learn more about Traditional Speech to Speech.